Best Jayco Trailers to Buy Used | Baird, TX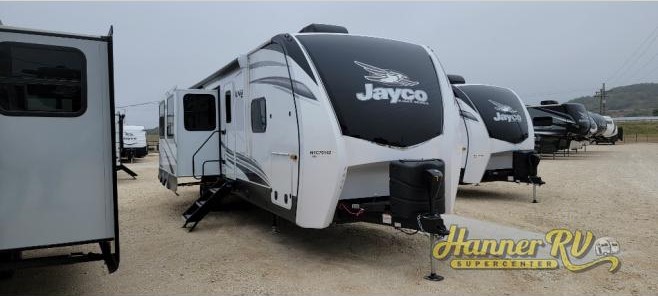 Thanks to their high-quality construction and industry-leading warranties, Jayco trailers make for some of the best RVs to buy used. Of course, there are also many good reasons to buy used regardless of brand, which you can read more about below along with some information about the best Jayco RVs to buy used.
Benefits Of Buying A Used RV
There are many benefits to buying a used RV, the first of which is the affordability. Brand-new RVs can be quite expensive, and saving on that purchase means having more money in your pocket to put toward a camping trip…or just more money left in your pocket.
Used RVs can also be used as the foundation for cool renovations, and thanks to previous owner modifications or discontinued features, they may even have amenities you simply can't find on any new RV. So if you're looking to squeeze an RV into a tight budget or to take on a project, buying a used Jayco RV may just be the way to go.
Best Used Jayco RVs
The Jayco RV lineup is extensive and full of high-quality options. The following are some of the RVs we think make for the best trailers when purchased used.
Eagle
Available as either a half-ton travel trailer or a full-size fifth wheel, the Jayco Eagle is the perfect RV for traveling in comfort. It can sleep between two to 11 people depending on the floor plan. Its construction, which includes a StrongholdVBL™ aluminum frame and laminated gel-coated fiberglass walls, is built to last. Inside, various luxurious features make living life on the road a thing of ease. When new, the Eagle is also sold with prep for Wi-Fi, solar, slide awnings, and an outside grill, so make sure to look for used models that have those features equipped.
Jay Flight
The Jay Flight is not just Jayco's most popular model — it's also regularly been the bestselling travel trailer in America since its introduction in 2001. Thanks to its innovative interior features and technologies, it takes a very long time before the RV feels outdated, while its legendary construction help ensure that using the Jay Flight for a very long time is perfectly feasible. And with 10 floor plans including some that sleep up to 14 people, it's easy to find a Jay Flight that meets your family's needs.
Jay Flight SLX 7
The Jay Flight SLX 7 is the smallest of the Jay Flight models. Affordable while new, it's a steal on the used market. It weighs no more than 3,500 pounds and has just a single axle, enhancing maneuverability as well as accessibility, as you don't need a big truck to move it around. Despite its small size, it packs quite a lot of features and can sleep up to six people (this will vary depending on model year and floor plan, so make sure to check when shopping used).
Jay Flight SLX 8
Somewhere between the Jay Flight SLX 7 and the bestselling Jay Flight is the SLX 8. It provides a nice middle ground, giving families more space to stretch in its larger interior while still being light enough that most full-size SUVs and midsize pickup trucks can handle towing it. And with its patented Magnum Truss™ Roof System, 13,500-BTU roof-mounted A/C system, contemporary interior design, and residential-style kitchen, the Jay Flight SLX 8 never disappoints.
North Point
Jayco North Point is a luxurious fifth-wheel RV for the families that won't settle for anything but the best. The upside of buying a North Point used is that you get access to all of those luxury features for a much more affordable price — including a king-sized residential foam-top mattress, JBL® home entertainment system, and hardwood cabinetry.
Seismic
The Seismic is a toy hauler designed for bringing your outdoor equipment to the campsite. Notable features include a side patio with TV hookup, optional king-size bed, and walk-in closet. Floor plans come with a variety of configurations for the garage so you don't have to sacrifice any more interior living space than you need to.
If you're in the market for a used RV, make sure to shop for a Jayco trailer at RVs of West Texas in Baird, Texas.