RV Towing FAQs | Abilene, TX


Towing an RV gives you a whole new way to experience this great country. Rather than shelling out $200 or more per night to stay in a hotel room that gives you no real sense of the actual area, why not tow your trailer to a beautiful spot in nature and pay a small fee to camp there? It's a great way to experience the real sounds, smells, sights, and even tastes (if you are bold enough) of nature all across the US.
However, towing an RV can be a little overwhelming — especially for first-timers. If you have just purchased your first RV from RVs of West Texas, it is likely that you have some questions. Read through these frequently asked questions about RV towing before heading out on your first adventure. Don't see an answer to your question? Call our experts at RVs of West Texas, and we will be happy to help.
How can I be safe while towing an RV?
The first rule of RV towing: Practice makes perfect. Before towing your RV onto the highway minutes after hooking it up, take it to an empty parking lot or a very low-traffic area where you can practice the basics. These include turning with your trailer, parking, backing up, and accelerating and braking. Once you are comfortable with the mechanics, take it to a moderately trafficked area and practice lane changes and merging.
It's possible you had some help hitching your RV for the first time. Before setting out, it's also important that you know how to properly hitch your trailer to your tow vehicle. Practice this a few times as well.
You can also be safe while towing your RV the same way you do when towing nothing. Stay focused on the road with zero distractions, keep both hands on the wheel, be fully rested before driving, follow the speed limit, etc.
Your RV may also have specific safety features that can come in handy. Read through your owner's manual to learn about your RV's safety features. For example, many Jayco models include the JaySMART™ lighting system.
Finally, keeping up with all maintenance is the best way to ensure safety when towing an RV.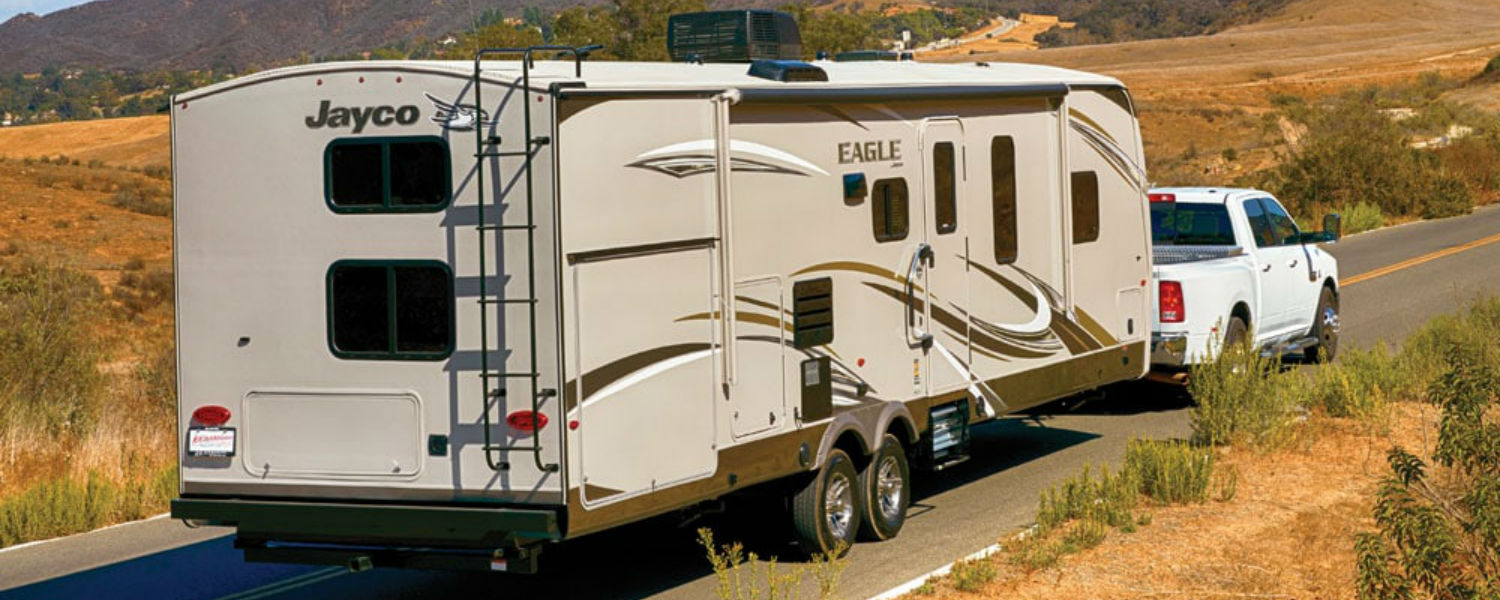 Is my vehicle capable of towing an RV?
Hopefully, you researched this one before buying an RV. After all, if your SUV or truck is not powerful enough to tow the RV, it really isn't a good investment since you can't take it anywhere.
But just in case: Check out what your vehicle's Gross Vehicle Weight Rating (GVWR) is. If the trailer weighs less than that, you are okay to tow it.
What do Gross Vehicle Weight Rating and similar terms mean?
There are a few related terms, all of which are typically rendered as acronyms, that it will be important to get familiar with:
Gross Vehicle Weight Rating (GCWR) : This is how much your truck or SUV can tow — the allowable weight for the trailer. Remember that your RV's weight may not be the final weight you are towing. You must include occupants, cargo, the trailer hitch, fluids, and anything else that may add weight to your trailer.
Gross Combination Weight Rating (GCWR) : This weight rating is slightly different; it combines the total allowable weight of the trailer with the total allowable weight of the tow vehicle, including everything each carries.
Unloaded Vehicle Weight (UVW) : Also called Dry Weight, this is how much your RV weighs when it doesn't have cargo, occupants, etc.
Gross Axle Weight Rating (GAWR) : This is how much weight an individual axle can handle. This includes the weight of the axle, brakes, tires, and wheels.
Contact us at RVs of West Texas near Abilene, TX, if you have any more questions about RV capabilities or need more tips on how to tow your RV safely.