Top RV Accessories | Baird, TX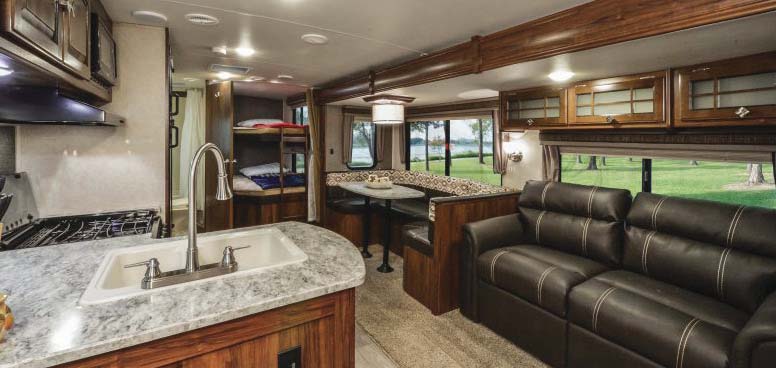 One of the upsides of owning an RV is that there is so much room for accessorizing and customizing. The following are a few affordable aftermarket accessories that we think most RVers can appreciate.
Portable Fire Pit
Not all camp sites come with a fire pit. But what's a camping experience without a fire? Portable and collapsible fire pits provide a convenient way to roast a few marshmallows without leaving a trace on the campground.
Multi-Functional Cooker
There's nothing quite like coming back from a long hike and having a meal ready. Multi-functional cookers can be substituted for rice cookers, steamers, slow cookers, and even pressure cookers. They make meal prep easy as a breeze and save you money on kitchen appliances.
Leveling Blocks
There are many different types of RV leveling systems out there, but leveling blocks hold a special place in our heart for their ease of use and affordability. But if you'd rather avoid the trouble, you could always buy one of our auto-leveling RVs.


Handheld Vacuum
Camping gets messy, especially with children and pets. There are various ways you can keep your RV's interior clean, such as with a broom or full-size vacuum, but none are quite as convenient as using a cordless, handheld vacuum.


Quiet Generator
Anyone who has camped before will probably agree that generators are a must-have. When you don't have access to an electrical hookup, generators provide power to your RV and appliances. For extra peace of mind and convenience, invest in a quiet one that can be started remotely.


Wi-Fi Booster
Many RV campgrounds are quite large — so large that you may be parked far from their Wi-Fi router. Using a Wi-Fi booster can help you avoid paying for extra cell phone data. Make sure to get an RV-specific booster designed for outdoor conditions.
Got the accessories, but not the RV? Visit RVs of West Texas in Baird, Texas, to check out our lineup of high-quality travel trailers, fifth wheels, toy campers, and more!